We are the commercial cleaning experts.
Welcome to ServiceMaster Clean of North Peel
ServiceMaster Clean of North Peel has been providing Commercial Cleaning Services in Brampton, Caledon, Georgetown and Orangeville for over 40 years.
We specialize in the following services:
Common Area Carpet Maintenance for Condominium and Apartment Buildings
Carpet Cleaning (both Restorative and Preventative Maintenance)
Upholstery Cleaning for office chairs and other furniture
Hard Floor Surface Cleaning (both Restorative and Preventative Maintenance)
Fabric Partition Cleaning
Window & Blind Cleaning
Carpet Repairs and Replacement
Painting
Diffuser and Air Return Cleaning
Wall Washing
Warehouse Cleaning
Post Construction Clean-up
Plant Floor Cleaning
Tile and Grout Cleaning/Restoration
Skunk Odour Removal
We have provided cleaning services to many industries in the Brampton, Caledon, Georgetown and Orangeville area, including manufacturing, distribution and retail ranging from 1,000 square feet to over 100,000 square feet. We are available 24 hours a day, 7 days a week, for all your cleaning and restoration requirements.
ServiceMaster Clean of North Peel is a certified commercial cleaning company. All of our technicians, through the IICRC (Institute of Inspection, Cleaning and Restoration Certification), have been certified.
We welcome you to experience the ServiceMaster Clean difference. Our goal is to provide great service and to ensure your satisfaction. All work provided is guaranteed.
PREVENTATIVE CLEANING AND DISINFECTION SERVICES
For years, ServiceMaster Clean of North Peel have been the experts in creating clean, safe and healthy workplace environments. Our experience and training afford us the ability to promote safe practices for infection prevention within all businesses.
In these unprecedented times, we are ready to respond with effective and customizable solutions. ServiceMaster Clean of North Peel provides a full range of cleaning and disinfection services that will help to keep your workplace healthy and productive.
GET A FREE ASSESSMENT
COVID-19 FAQs
What is an epidemic vs a pandemic?
According to the World Health Organization (WHO), "a pandemic is a worldwide spread of a new disease." Before a disease is declared as a pandemic, it has to exceed a few other levels, according to the Centers for Disease Control and Prevention (CDC):
Sporadic:

When a disease occurs infrequently and irregularly.

Endemic:

A constant presence and/or usual prevalence of a disease or infection within a geographic area.

Epidemic:

A sudden increase in the number of cases of a disease — more than what's typically expected for the population in that area.

Pandemic:

An epidemic that has spread over several countries or continents, affecting a large number of people.
MORE COVID-19 FAQS
News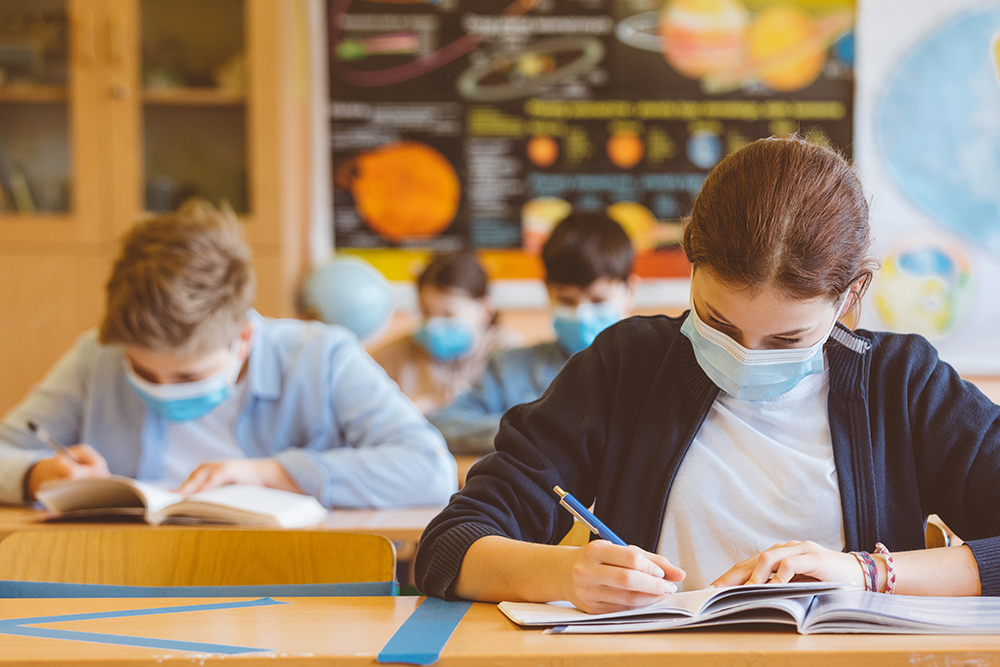 The Facts On Disinfecting Schools
School administrators are facing perhaps their most difficult fall season ever. Getting back to school has never been more uncertain or complicated. Ensuring the safety of students and faculty during the COVID-19 pandemic has raised some challenging questions, many of them about cleanliness and disinfection. Infection control in schools is always a concern because of influenza and bacteria such as MRSA and C. diff, but COVID-19 presents new questions. Principals and school boards are seeking information and they often turn to commercial cleaning professionals for the answers.
---
Cleaning and Disinfection Services
We take disinfection seriously! As such, our process always begins with cleaning to allow us to remove any visible dirt and soil. By cleaning first, we enable the disinfectant product to do its job effectively! For disinfection service, we use only Health Canada approved disinfectants. Should your concern be specifically about COVID-19, rest assured, our disinfectants are also on Health Canada's list of approved disinfectants for use against COVID-19.
About Us
Meet our Team: Paul Burke: Paul joined the ServiceMaster family in June 1987. He took ownership in January 1998 and is responsible for all aspects of the company. Paul has certification through the IICRC in the following areas: Journeyman Textile Cleaner/Odour Contr
Commercial cleaning services to suit every budget. Our plans start as low as $250 per month - whether you need daily commercial carpet cleaning, office furniture cleaning or specialty commercial cleaning. Depending on your specific requirements, we will work with you to develop a plan that suits your needs, and your budget.
Guaranteed Service
No other vendor offers the quality of service and degree of commitment as consistently or as affordably as ServiceMaster Clean. We are so confident in our performance, we guarantee it!
Our expertise, dedication and value-added services make us the best commercial cleaning choice for your business.
Get A Free Assessment